ESoft Payroll & Human Resource Information System (HRIS) offers a self-contained total solution for human capital management suitable for medium to large size companies.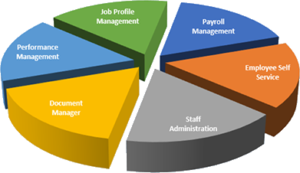 ESoft -EHRIS Modules
Payroll Management
Employee Self Service
Staff Administration
Document Manager
Performance Management
Job Profile Management
Module Key Features
Payroll Management
Features Highlights
Compliant with all Zambian legal requirements.
Multi-Currency
Multiple currencies with multiple exchange rate conversions
Multiple companies
e-Payslips via email and sms
simplified data entry with data import and export tools
Inbuilt report design tools
Variety of pay slip designs
Variety of payroll reports
Unlimited data retention periods
e-NAPSA
e-PAYE and Skills Levy Returns
Personal levy
National Health Scheme (NHS)
Workers compensation annual filing
General Ledger Interface
Employee Self Service (ESS)
Employee Self Service allows employees to apply for leave and supervisors to approve leave applications, Employee also get access to their pay statements and can also complete the performance appraisal on the web portal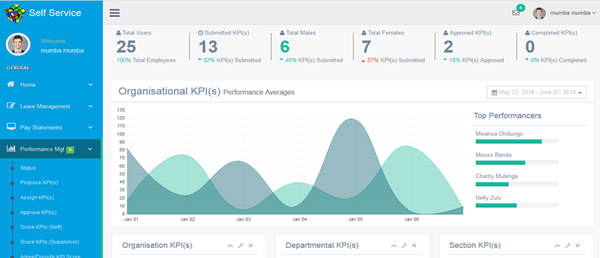 Feature Highlights
Leave Applications (leave becomes a streamlined, paperless process)
Loan Applications
Performance Management (Employee Self Appraisal then escalated to Line Manager. Performance management allows the employees to propose their own KPIs or be assigned KPI by their supervisors, supervisors can approve the subordinates KPIs. Through this module an employee can do a self-assessment on the KPIs then the supervisor also does and assessment and provides ratings for each KPI. At the end the employee agrees or disputes the KPI ratings from the supervisor.
Access to E-Payslips (If using ESoft Payroll)
Staff Administration
This is a working tool for human resource practitioners. The main aim of this system is to computerize employee's personal files moving away from traditional filing to modern electronic data management. Employee information is available just on the finger tips, hence managing employee records efficiently and effectively.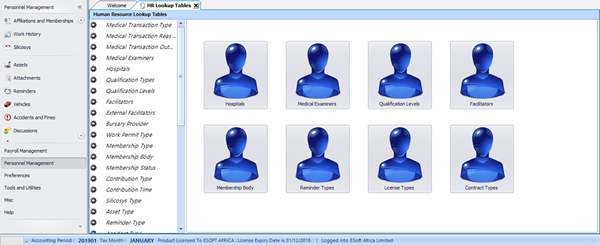 Feature Highlights
Capturing of family details and emergency contacts
Administration of employee sick notes
Management of employee contracts
Capturing of qualifications, memberships and affiliations
Tracking of employee work history
Management of employee disciplinary records
Management of work permits for expatriate employees
Recording of accidents and fines
Monitoring of company assets allocated to employees
Logging of vehicles allocated to employees
Reminders for your employees, managers and users of important follow-up dates with scheduled, automatic email and sms alerts
Sms and email alerts for expiring probation, contracts, licences and various important follow-up dates
Document Manager
Replace your traditional employee files with easy-to-use electronic files with document attachments like CVs, IDs and certificates
Loading of employee documents such as employment contracts, qualification Certificates, Birth Records and all information that goes into the employee personal file.
Sharing of important company documents among staff members
Employee Electronic Personal file (E-Personal File) for quick reference to filed documents
Performance Management
Preparation and conducting performance and competency reviews performance goals and personal development action plans per employee
Formulate performance development plans per employee combining job requirements, review results and development areas
Job Profile Management
Job Profile management allows the HR officers to define requirements for a particular position in the organisation; the HR officers can specify Competencies, Performance requirements, Affiliations, Experience, Training, Skills required for a position.
Each job is linked to Key Performance Areas (KPAs) and Key Performance Indicators (KPIs) integrated with the Performance Management Module